Halogen Light Source with Feedback
LA-150FBU(Hayashi Watch Co., Ltd.)

Monitors light quantity change and maintains constant light quantity automatically.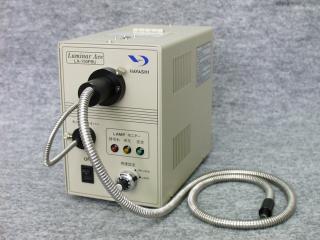 Main Applications
| | |
| --- | --- |
| | Illumination for image Processing Apparatus |
| | Illumination for Microscopes |
| | Illumination for Scientific Observation |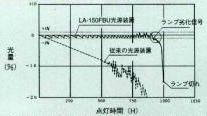 Dimensional Outline Drawing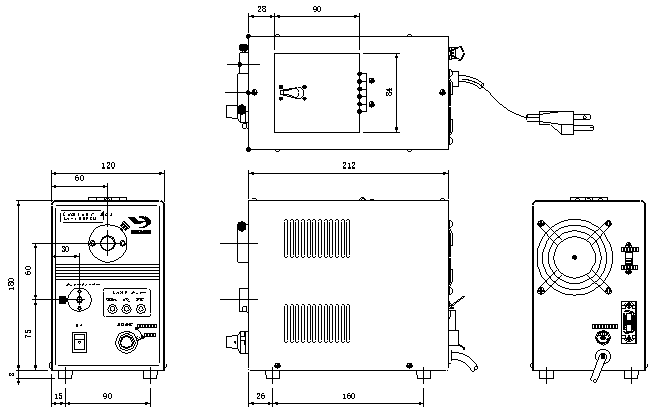 Specifications
LA-150FBU

Rated Input Voltage

100 VAC (Input Voltage Range 85 - 132 VAC)
1

200 VAC (Input Voltage Range 170 - 264 VAC)

Rated Input Frequency

50/60 Hz

Power Consumption

190 W (at 150 W Lamp Maximum Load)

Lamp Type

JCR15V150WH5
Color Temperature: 3100K
3

Average Life for 1,000 Hours

Lighting System

Direct Current Lighting System

Illumination Stability

Feedback Precision: Setting illumination +/-1% (while green LED is lit). Yellow LED turns on and warns of lamp deterioration when illumination errors more than +/-1% are caused by the deterioration of halogen lamp.
3

When using a light guide with dedicated monitor fiber

Light Quantity Adjustment

Output Variable Voltage
Variable Voltage: 5VDC - 14 VDC
Light Quantity Variable Range: 3% - 100%
4

Maximum Illumination: 500,000 Lux

Protective Functions

Overcurrent Protection Circuit: Hanging Down Type (Automatic Return)
Overheat Protection Circuit: Output Interception Type (Returned by Power Supply Restoring)

Cooling System

Forced Fan Cooling

Optical Filter

Built in Cold Filter, Heat Filter

Operating Temperature / Humidity

-10ツーC - + 45ツーC / 20% - 80% RH (no dew condensation)

Applicable Fuse

AC125V3A Glass Tube Fuse (f5.2 x 20 mm)
1

200 VAC: AC250V3A Glass Tube Fuse

Functions (Standard Feature)

1) Lamp ON / OFF Remote Function
2) Light Quantity Adjustment Remote Function
(Control Voltage 0 VDC to +5 VDC MAX)
3) Lamp Stability Detect Function (Green LED Indication)
4) Lamp Deterioration Detect Function (Yellow LED Indication)
Lamp Deterioration Signal Output at the time of Lamp Deterioration
5) Detect Function for Running Out of Lamps (Red LED Indication)
Signal output when running out of lamp and when lamp is not mounted.

External Dimensions

W 120 * H 180 * D 212 mm (Dimensions except Projection)

Weight

3.4 kg
1 200 VAC specifications can be adjusted by the maker.
2 Lamp life is not guaranteed value but experimental value.
3 Please buy this light equipment with a light guide with dedicated monitor fiber.
4 The illumination is measured at fiber diameter 5 mm, 500 mm in length and at the position of 15 mm from a light projection edge.
Option

8 Bit Converter Unit
DA-8U
Built-in products can be manufactured.(UL standard compliance)
Please buy light guide in sets with main body of light source.
Please note that light guide other than our products may cause a malfunction.
---
Important Note about the Power Supply and Repair
Power supply of some products is adapted to Japanese 100V specifications. In case of using it outside of Japan, please be sure to use a voltage converter for each country/area.
Also, when you need to repair the products purchased from Pulse Denshi, please send them back to us so we can offer repair cost estimates. Your local service center may not accept such repair.

---
Company and product names mentioned in this website are trademarks of their respective owners.
All information and specifications are subject to change without notice.
All rights reserved. No part of this website may be reproduced.